The best of both - efficient cooling and heating with one product - GEA Blu-Red Fusion
On-demand
GEA launches an innovative solution that combines a chiller and heat pump in one smart product. Its modules are a chiller-stage and a heat pump stage, both based on the successful, existing GEA Blu chiller and GEA Red heat pump models. In addition to relying on well-established technologies, nearly two decades of heat pump experience helped transforming previously customized units into an efficient, risk-free plug-and-play product.
The new combination is fully configured, efficiency optimized, and suited for combined cooling and heating applications, or for cooling purposes only when no heating demand exists, and the heat pump stage is inactive.
The presentation in the supporting program introduces the basics of chiller/heat pump cycles as the fundament to illustrate the application, technical data as well as features and benefits of the new GEA Blu chiller – Red heat pump combination.
The combination at the heat source works with any type of liquid coolant in the range of -15 to +15 °C outlet temperatures. At the heat sink side heat carrier supply temperatures up to +80 °C can be provided. Cooling capacities range from approx. 300 to 1,800 kW with heating capacities covering a scope of approx. 450 to over 2,400 kW (sec. refrigerant at +12/+6 °C, heat carrier at +50/+70 °C).
The intermediate stage is equipped with one single, efficient ammonia-ammonia "cascade" heat exchanger. Not only does this design drastically reduce the equipment effort, it also makes an intermediate liquid cycle redundant which reduces the differential pressure of both stages and does not waste more Kilowatts on glycol or water pumps. The efficiency plus easily reaches double digit numbers. This means a dramatic reduction of energy costs and CO2 emissions.
Environmental protection and sustainable plants are important concerns for both, GEA and our customers likewise. GEA's efficient ammonia heat pumps make a fundamental contribution to a future-proof installation reducing total costs of ownership and CO2 emission.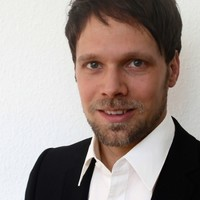 Thomas Lergenmüller
Product Management & Development Packaged Components , GEA Refrigeration Technologies